So, do you want to leverage Instagram for your social media marketing strategy?
This Is Your 5-Step Guide To Smashing Your Instagram Marketing Game In 2023!
Are you looking to enhance your social media presence?
That's a yes, for sure. So, let me rephrase the question...
Are you looking for a step-by-step guide on how to leverage Instagram marketing?
If that's a YES, then you're in the right place! Today, we will dig deeper into Instagram Marketing.
We all know, Instagram marketing is not a new way of promoting your products and engaging with your audience. In fact, there are 200+ million Instagram business profiles!
With this number of business owners and content creators, the question you may have now is...
"How can I stand out?"
To stand out on Instagram, it takes a well-planned strategy and a smooth execution to smash your Instagram game. And that's what you'll learn here.
This guide will teach you...
How to create an Instagram account
How to optimize your profile
How the feed options work
How to create and strategize your Instagram content
How to analyze your insights
Even if you don't have an Instagram account yet, you don't have to worry. And there's even a bonus tip waiting for you, so stay tuned!
But before we hop on the juicy part of this guide, let's talk about...
Create an Instagram account
Creating an Instagram is easy!


➡️ Download the Instagram app
Download Instagram app on Play Store for Android and App Store for Apple users.
➡️ Sign up
So, you need to tap Sign Up With Email if you're using Android.
If you're using iPhone, tap Create A New Account. Then enter your phone number or email.
➡️ Create a username
When you create a username for your business, make sure that...
Your business name is indicated.
Not complicated
No numbers
You want to keep it professional, of course. Your target customers might not trust a business with a username that looks like bagsforsale_139583.
Keep it short and straightforward. Something easy to remember.
If your business name is Bags For Sale, your username can be bagsforsale. If it's already taken, you can add underscores or periods.
➡️ Create a password
To protect your business and customers, create a strong password.
➡️ You're done!
... with creating an Instagram account!
Because it only starts there.
Before we hop on your content strategy, you need to...
Optimize your profile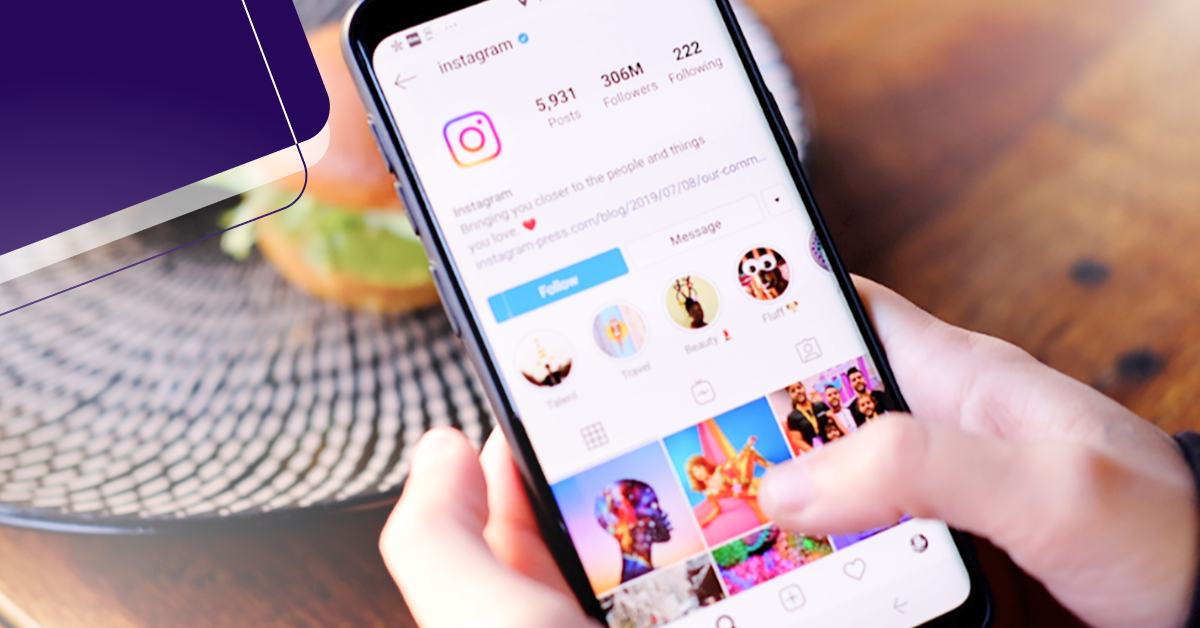 Profile optimization is often overlooked in creating an Instagram strategy. But the truth is, it's crucial because this is a factor in whether your target audience will follow you.
Let me tell you...
Why is profile optimization important?
1. Give clarity about your business.
If you have a well-written bio, your target audience would know in a snap what your Instagram account is about.
2. Establish an online presence.
With your logo and tone of voice, your target audience can see what kind of brand you are.
3. Attract the right followers.
If you optimize your profile, you can attract followers who genuinely like or resonate with your brand.
How to optimize your Instagram profile?
1. Have a clear profile photo
A clear profile photo will help your target audience determine your brand.
Make sure your profile photo...
Is high-quality
Shows your logo/brand identity
Uses the correct size and shape, which is circular and 110 x 110 px
A clear profile will make you more recognizable, especially if your customers want to connect with you on social media.
2. Write a compelling bio
Again, to tell your target audience what your brand is about. This will help them decide quickly if they're going to follow you.
Your bio should state these things:
What do you do/what are your products are
Where are you located (to give them an idea if you can ship to their country)
How to place an order
A clear CTA and link to your website or order form
You want to ensure all necessary details are included in their bio before they reach out to you for questions.
You also need to ensure that you are using your website link or order form. This is better than having multiple links because that's an extra step for your potential customers.
Make it easy for them to take your desired action.
3. Show relevant highlights
Stories only last for 24 hours. But Instagram highlights can stay for as long as you want them to. Consider this as similar to your website's menu.
You can include...
About page
Contact or order form
Mentions from your past customers
How to place an order
Return and refund policy
How to create highlights?
First, create an Instagram story with all the details needed. Then post it on your account. If there are only photos or videos available, post them, too. Create a highlight and choose that story.
Just repeat the process for all your other highlights.
4. Turn your Instagram into a business account
You should change your account into a business or professional account to get all the business account perks and tools.
This also shows your target audience what your Instagram page is about. Here's how:
Go to your profile and click the three lines on the upper right.
Select Settings and choose Account
Scroll down, and you'll see the Switch to Professional Account option
Tap Continue and select your business category
Doing so will allow you to enjoy more resources for creators and business owners on Instagram.
Want to see a great example? Here's one:
HELM Boots is an excellent example because their bio is very detailed. They included when they were established, which was over ten years ago.
They also included the location, opening times, address, shipping and returns details, and a 15% off for email sign-ups.
They didn't forget the website, too. The highlights have FAQs, which are very convenient for shoppers. Everything is there; they don't need to ask for this essential information.
Remember, your audience or potential customers should find essential details and buttons on your bio.
After optimizing your profile, let's talk about your content.
But before that, you need to...
Set your Instagram goals
To create a solid Instagram marketing strategy, you must understand what goals you need for your business to take off.
Let's talk about the goals you can set on Instagram.
1. Drive brand awareness
Before converting potential leads into paying customers, awareness is a critical phase.
And with roughly a billion Instagram users every month, it's easy to drive brand awareness because your target audience is there.
If you set this as one of your Instagram goals, you can create content targeted to potential customers unaware of your brand.
2. Boost more sales
Instagram is a great way to boost your sales.
Some tools will help you redirect your potential customers or audience to your website, which I will show you later.
So, boosting sales is also a considerable Instagram goal because you can create Instagram marketing campaigns that will entice your potential customers.
3. Increase customer engagement
Social media makes connecting with customers easier.
And increasing your customer engagement is an essential goal for Instagram marketing. Customer engagement is also an excellent way to foster brand loyalty.
If this is your goal, you can create engaging Instagram posts which your audiences will enjoy.
4. Accessible customer service
Customer service is essential in keeping a customer and increasing their satisfaction.
Some customers don't have the time to reach you via the hotline or compose an email about your products.
But Instagram is an accessible way for them to contact you if they have questions about your products or their orders.
So, aiming to provide excellent customer service through Instagram is also a goal.
5. Strengthen brand presence
Some brands, especially well-known brands, hop on Instagram not to gain followers or sales. Because you can set strengthening your brand presence as a goal.
It's just as important because you can build trust with potential customers. This will also help you strategize content that aligns with this goal.
Speaking of which...
Create and strategize Instagram content
Knowing your Instagram goals makes creating and strategizing your Instagram posts easier.
Of course, you need to think of content that aligns with your goals.
Before strategizing your actual content, let's talk about which types of posts you can create on Instagram.
Types of Instagram posts
💡 Videos
You can upload regular videos on Instagram.
But due to the popularity of short-form videos, the regular video will appear under the Reels tab.
Instagram videos are perfect for showcasing your products and engaging with your audience.
💡 Reels
Due to the rise of TikTok, Instagram came up with its version of short-form videos called "Reels."
You can upload videos ranging from 15, 30, 60, and 90 seconds. You can also use trending music, film, and edit videos in-app.
Instagram Reels get a lot of views. In fact, Reels get 22% more engagements than regular videos.
💡 Images
Since Instagram was originally a photo-sharing app, you can upload images.
This is perfect if you don't have time to film videos on Instagram.
But images don't just mean photographs... you can create publication material or graphic images for your eCommerce brand.
💡 Carousels
Carousels are a combination of images and videos.
You can upload up to 10 photos and videos on Instagram in one post.
You can make interactive, informational, and entertaining carousel posts. By doing so, you can capture your followers' attention so they will go to the next slide.
💡 Instagram stories
Instagram stories have a 24-hour lifespan. You can see who and how many of your followers viewed your stories.
This is a way to keep your audience engaged and updated with what you're currently up to. Also, you can upload essential stories and put them on your highlights.
Since you already know what types of posts Instagram supports, let's talk about how to create content to post.
9 Strategic and creative ways to make your Instagram account note-worthy
Here are nine things you need to do to achieve the best results.
First, you should...
1. Identify your content pillars
Content pillars are a set of topics or categories for your Instagram posts. These are topics that will help you achieve your Instagram goals.
Some content pillars are:
Education
Inspiration
Trust
Promotion
So, when you use these pillars, you will have some content ideas under each one of them.
For example, education. The best posts for this pillar are educational carousel posts or industry news. While for building trust, you can share user-generated content or leverage influencer marketing.
If you want to entertain your audience by creating memes, you can do that, too, like McDonald's.
The "Little Miss" memes have been trending in the past few weeks. And they made sure to join the fun!
The purpose of content pillars is to ensure your content is aligned with your goals and audience. Having them will also make content generation easier for you.
To see what others are doing, you can...
2. Analyze your competition
Analyzing your competitors also works on Instagram eCommerce marketing.
There's nothing wrong with checking your competitors' Instagram accounts. You're not going to copy their content, anyway. But you need to analyze what works and not on their Instagram accounts.
Here are some questions you can ask yourself when analyzing their pages:
Which posts have a lot of engagements and which ones don't?
How are they writing their captions?
Why do they have a lot of followers?
What are the types of content they're posting?
How are they engaging with their audience?
Are they running Instagram ads?
Doing so will help you create and strategize more compelling content that your target audience and existing followers will enjoy.
To distribute Instagram posts more efficiently, you need to...
3. Create a content calendar
Creating a content calendar will help you keep track of the distribution of your Instagram posts.
You can also consistently follow a schedule for your Instagram business account.
Here's how to create a calendar:
First, you need to choose a platform. It's important to note that your content calendar needs to be collaborative if you have a team.
You can use Google Sheets or any project management tool of your choice that has a calendar view.
Then choose the categories you need to fill in. The categories don't have to be really complicated. You can use the important ones, such as:
A place or link to the images
Caption
Date of publication
Channel of distribution
Content category (to make sure you are distributing equal content pillars)
Once you have a content calendar, share it with your team. It will also be best to keep the link on easy access so you can check it daily.
By the way... content calendars can change. Even if you have scheduled some posts, there will be times when you'll need to switch up some content.
It can be because of the trends, relevance, or after you...
4. Learn from the experts
Suppose you're not working with social media marketers or consultants and running your own Instagram account... no worries! You don't have to do it all by yourself.
You can learn from the experts and listen to what they have to say. You can research, read blogs about Instagram marketing, watch marketing YouTube videos or courses, listen to eCommerce podcasts, and more.
After you do, evaluate your Instagram marketing strategy to apply what you learned from them.
And to reach more people, make sure to...
5. Use relevant hashtags
Hashtags can help you reach more people, especially if your target audiences are following the hashtags you're using.
Here are some ways to find what hashtags to use:
Check your competitors' hashtags
Search the hashtags volume
See what hashtags your followers are following
Using the right hashtags will increase your chances of being seen and appearing on top posts of the hashtags.
Aside from hashtags, you need to...
6. Write an engaging and compelling copy
To keep your followers' attention, ensure your captions are well-written.
Writing sentences that will keep them hooked and wanting to scroll further to finish reading your posts is important.
Here are some things to remember when writing a copy:
Stick to your brand voice. If you're a fun company, write an amusing caption that your audience will enjoy.
Get straight to the point. Don't write many sentences that aren't easy on the eye and have nothing to do with the purpose of your post. If you're selling a new product, tell them.
Include important details. Some potential customers don't have the time to go to your website or send you a message to inquire about your prices. Highlight all necessary information.
But don't get too carried away in writing because Instagram limits the captions up to 2,200 only, including the hashtags.
To make your posts even better...
7. Create consistent branding
Even if Instagram isn't a photo-centric app, visuals are still crucial in your Instagram marketing strategy.
Let me ask you this: Say you're buying a product and choosing between Store A and Store B.
Store A has a lovely Instagram feed, consistent branding, and engaging visuals. The posts can capture anyone's attention in just a few seconds. In contrast, Store B has not-so-nice photos and posters with no consistent branding.
Which one will you choose? Of course, the one that showcases the products you like to buy nicely.
Just like you... Customers want to see great product photos and promos to help them decide if they will purchase.
Let's see an example of Instagram accounts with consistent branding:
The one on the left is Crumbl Cookies. Their brand colors are black, pink, and white. And if you look at their feed, there is a consistent grid pattern.
Another one is Rise At Seven, which is a global search-first creative agency. Their Instagram feed showcases the branding of their clients. And you can also see there is a consistent grid pattern, which looks easy on the eye.
So, what can we learn from them?
Use your brand colors. Sticking to your brand colors will make your Instagram feed cohesive.
Upload high-quality images and graphics. Since Instagram is visual-centric, uploading images that look pleasant is important. But...
Don't stress too much about the aesthetics! You don't need to have a perfect feed. You're on the right track as long as you are pushing out relevant and creative content that will achieve your goals.
Here are some tools you can use:
Quality content is not limited to perfect images and graphics. Just make sure your visuals can communicate your brand identity and message.
If you have more marketing budget to spend...
8. Utilize Instagram ads
Instagram ads will help you increase your reach.
There are three different types of ads you can use on Instagram: Story ads, In-feed ads, and Reels ads. And it's easy to create an ad.
You can go to Facebook Ads Manager and select the Create option. Then follow the next instructions and set your budget.
And if you already have an Instagram post that you want to boost, just click the "Boost Post" button, and you'll be redirected to the next steps. Identify your target audience and set a budget... then you're done.
But wait... it doesn't end here.
9. Try out different Instagram tactics
There are still many strategies you can try to achieve Instagram eCommerce success. But don't forget that your tactics should align with your goals.
Some Instagram marketing tactics you can try are:
Engaging with your audience or potential customers
Leveraging influencer marketing
Creating short videos for Instagram stories and reels
Using Instagram stories to interact with your followers
Collaborating with other community members
Asking questions to increase your engagement rate
... and more!
There are many Instagram tactics you can try. You need to be strategic and creative to find the ones that work.
If they don't, don't be afraid to adjust. You can see what strategies are working if you...
Analyze your insights
That's the great thing about digital marketing. Insights will tell you what worked and not.
The same goes for Instagram. Through Instagram analytics, you can figure out what things are working or not.
You can find the post insights when you go to your post and click on "View insights." You'll be redirected to this page.
Here are what the metrics mean:
Accounts reached. The number of times your post reached unique users.
Accounts engaged. The total interactions your post received.
Profile activity. How many times have users taken action on your profile, like clicking your website, tapping the follow button, etc.?
Impressions. How many times was your post viewed?
From explore. How many users viewed your post from the Explore page?
From other. Users from other sources viewed your post.
From hashtags. The number of times your post was viewed through the hashtags you used in your post.
From profile. How many times was the post viewed directly from your profile?
Post interactions
Saves. The number of users who saved your post.
Likes. The number of likes your post received.
Shares. How many times did other Instagram users share your post?
Comments. How many users commented on your post?
Profile activity
Profile visits. How many people visited your profile through that specific post?
Follows. How many followers did you gain through that post?
Website taps. The number of taps on your website.
Email button taps. How many people tapped on your email button?
So, what are you going to do with these metrics?
You need to analyze the insights of your posts to see if they performed well. From there, you can fine-tune your strategy.
For example, if the website tap is low, you can adjust your CTA or write a more engaging copy. Or, if the impressions from hashtags are high, take note of the hashtag sets you used.
Insights are here for a reason. Make sure to use them properly.
Bonus: Instagram Tools You Need To Utilize
Instagram has a lot of uses for eCommerce businesses, creators, and even regular users. Here are some of them.
1. Professional Dashboard
You can see "Professional Dashboard" on top when you go to your profile. When you click on that, tools and resources are available if you have an Instagram business account.
You can view your audience and their demographics, like location, age, gender, and what time your Instagram followers are primarily online.
If you're confused about navigating your Instagram page, resources are available to help you.
2. Instagram Stories Stickers
Say goodbye to boring Instagram stories. You don't need to post videos or images with nothing but texts and emojis because there are Instagram stickers you can use.
There is a location sticker, which increases your visibility. You can also mention other users or start a thread using the "Add Yours" sticker.
Questions, polls, and quiz stickers can be helpful in knowing what your audience thinks about your products. You can also add gifs or emojis for more entertainment.
And you don't have to say "Link in bio" because you can add the link to your website using the link sticker.
Lots of Instagram features to take advantage of, right? Don't take these for granted!
3. Instagram Shopping
Instagram Shopping is an easy way to redirect your customers from your post to your website.
You can set up your Instagram shop with Commerce Manager. Once you're ready to sell, upload your product catalog. And when you complete all the technical side of things, you can start creating shoppable Instagram posts.
That's how easy it is to make shopping more convenient for your potential customers.
So, make sure to utilize these tools because they will be beneficial in your Instagram marketing journey and...
Start creating a solid Instagram marketing strategy for your ecommerce business!

It sounds challenging, especially if you haven't started marketing on this platform yet. But these tips and resources make strategizing for your Instagram page easier because you learned about...
Creating an Instagram account
Optimizing your Instagram profile
Setting Instagram goals
Creating and strategizing effective Instagram content
Analyzing Instagram insights
Utilizing Instagram tools
Instagram is a cost-effective way to market your products because of the significant number of users. That's also one of the reasons why more and more businesses, big or small, are grabbing this opportunity.
So, having a solid Instagram marketing strategy will be your vehicle to succeed on Instagram. And you need to put a lot of thought into your strategy and content.
But Instagram is just the tip of the iceberg. Because digital marketing is vast, so you need to read...