Welcome to the wild and wonderful world of eCommerce link building!
If you're an online store owner or a savvy marketer, you already know that building a strong network of links is like having a secret weapon in your digital marketing arsenal. But hey, we're not here to bore you with the same old link-building spiel.
No sir, we're about to dive headfirst into the exciting realm of eCommerce link-building strategies and the hottest new trends that will make your competitors green with envy!
So buckle up, grab a cup of coffee (or your favorite energy drink), and get ready to rock your online store like never before. Let's turn those clicks into cha-chings!
Basics of a link building strategy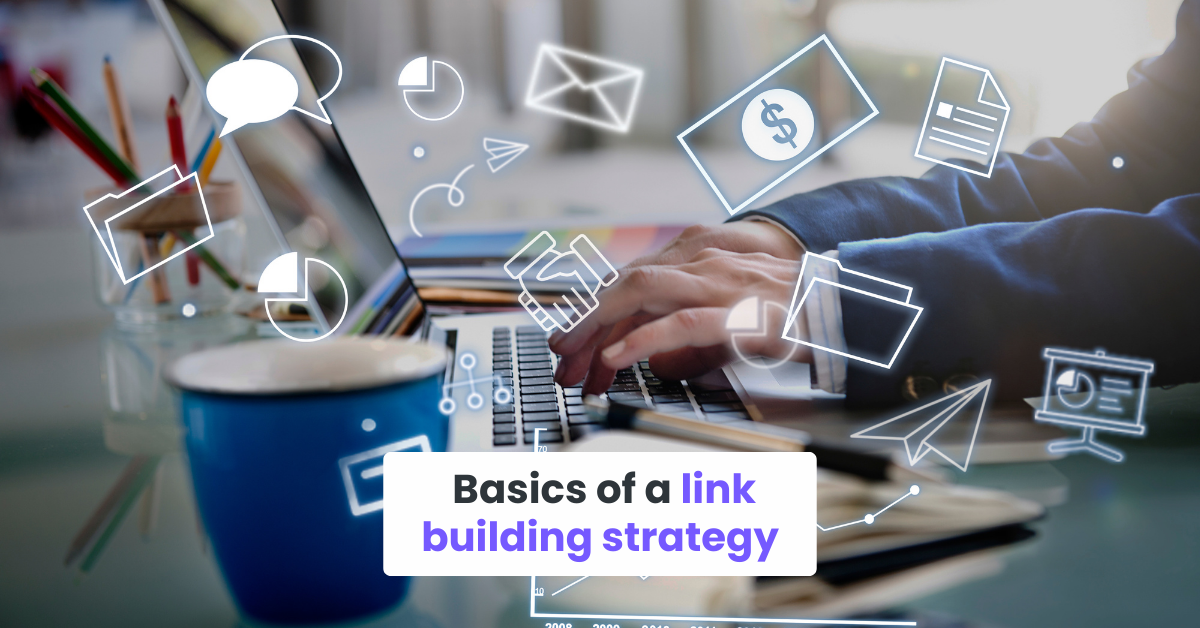 What is a backlink?
So, let's start with the basics: backlinks. Backlinks are like little pathways that connect one website to another.
They are links that point from one website to another, kind of like a vote of confidence from one site to another. When a website has more backlinks, it's seen as more trustworthy and authoritative by search engines like Google.
Difference between high-quality and low-quality backlinks
Now, not all backlinks are created equal. Some backlinks are considered high-quality, while others are low-quality.
High-quality backlinks come from reputable websites that have a good reputation and are relevant to your industry. These backlinks can have a positive impact on your website's search engine rankings.
On the other hand, low-quality backlinks come from spammy or irrelevant websites. These backlinks can actually harm your website's reputation and rankings. So, it's important to focus on getting high-quality backlinks from trusted sources.
Role of anchor text
Anchor text is the clickable text that appears in a hyperlink. It's the text that you see and click on when you come across a link.
Anchor text plays a crucial role in your link building strategy because it helps search engines understand what the linked page is about. Ideally, you want your anchor text to be descriptive and relevant to the page it's linking to.
For example, if you have a webpage about "best running shoes," it would be helpful to have anchor text like "best running shoes" rather than something generic like "click here." This way, search engines can better understand the context of the linked page and improve its visibility in search results.
So, in a nutshell, link building involves getting other websites to link to your website, which can boost your website's authority and visibility.
Conducting effective keyword research for link worthy content
When it comes to link building, keywords play a crucial role in determining the relevance and value of the links you acquire. Keywords are the words or phrases that people use to search for information online, and they help search engines understand the content and context of a webpage.
By incorporating relevant keywords into your link building strategy, you can improve the visibility and ranking of your website in search engine results pages (SERPs). When other websites link to your site using keywords that are relevant to your content, it sends a signal to search engines that your website is authoritative and trustworthy in that particular topic or industry.
Not only do keywords help search engines understand the relevance of your website, but they also help users find the information they're looking for. When you target the right keywords in your link building efforts, you increase your chances of attracting organic traffic from people who are genuinely interested in what you have to offer.
Tools and techniques for identifying relevant keywords
To conduct effective keyword research for link building, there are several tools and techniques you can use. Here are a few popular ones:
Keyword research tools: Tools like Google Keyword Planner, SEMrush, and Moz Keyword Explorer can provide valuable insights into search volume, competition, and related keywords. These tools help you identify relevant keywords that have a good balance between search volume and competition, allowing you to target keywords that have a higher chance of driving traffic to your website.
Competitor analysis: Analyzing the keywords your competitors are targeting can give you valuable insights into the keywords that are driving traffic to their websites. Tools like SEMrush and Ahrefs allow you to analyze your competitors' backlink profiles and identify the keywords they are ranking for. This information can help you discover new keyword opportunities and target them in your eCommerce link building tactics and efforts.
User intent analysis: Understanding the intent behind a user's search query is crucial for effective keyword targeting. By analyzing the types of queries users have when searching for information related to your industry, you can identify the keywords that align with their intent. For example, if users are searching for "best eCommerce platforms," it indicates that they are looking for comparison and review articles. By targeting keywords related to this intent, you can attract users who are more likely to engage with your content and link to it.
Long-tail keywords: Long-tail keywords are longer, more specific keyword phrases that typically have lower search volume but higher conversion rates. These keywords often indicate that the searcher is looking for something specific. By targeting long-tail keywords in your link building efforts, you can attract highly targeted traffic and increase the chances of acquiring relevant and valuable backlinks.
Remember, effective keyword research for eCommerce link building is an ongoing process. It's important to regularly analyze and update your keyword strategy based on changes in search trends and user behavior.
Building relationships for link acquisition
When it comes to eCommerce link building, building strong relationships is absolutely crucial. Gone are the days when you could simply send out generic outreach emails and hope for a positive response.
Now, it's all about establishing genuine connections with other website owners and influencers in your industry.
Why is relationship-building so important? Well, for starters, people are more likely to link to your website if they know and trust you.
By investing time and effort into building relationships, you can increase your chances of acquiring high-quality links that can boost your website's domain authority, and visibility in search engine rankings.
Crafting personalized outreach messages
When reaching out to potential link partners, it's important to personalize your messages. Generic, copy-and-paste emails are easy to spot and are often ignored.
Instead, take the time to research the very website owner or influencer you're contacting and craft a personalized message that shows you've done your homework.
Start by mentioning something specific about their website or content that you genuinely appreciate. This shows that you're not just looking for a link, but that you value their work.
Then, explain why you think a link to your website would be valuable to their audience and how it can benefit them.
Remember, building relationships is a two-way street. Offer something of value in return, such as sharing their content on your social media channels or collaborating on a mutually beneficial project.
By showing that you're willing to give as much as you receive inbound links, you can strengthen the relationship and increase the likelihood of acquiring a link.
Leveraging industry connections and partnerships
Another effective strategy for link acquisition is leveraging your industry connections and partnerships. Reach out to other businesses, organizations, or influencers in your niche and explore opportunities for collaboration.
For example, you could offer to write a guest blog post for their blog, where you can naturally incorporate links back to your website. This not only helps you acquire valuable links but also allows you to tap into their audience and increase your brand exposure.
Additionally, consider forming strategic partnerships with complementary businesses or industry influencers. By working together on joint projects, events, or content, you can not only strengthen your network but also gain exposure to their audience and potentially acquire links from their websites.
Creating high-quality content for link building
Creating high-quality content is essential for successful link building. Let's explore some strategies to make your content link-worthy and valuable to your audience.
Incorporating visual elements and multimedia
When it comes to content, visuals can make a huge difference. People are naturally drawn to images, videos, and infographics. By incorporating visual elements into your content, you can make it more engaging and shareable.
Consider using eye-catching images, informative charts, and captivating videos to enhance your content. Visuals not only make your content more appealing but also help convey information in a more digestible and memorable way.
This can increase the likeli
Developing link-worthy content that provides value
To attract links, your content needs to be valuable and unique. Think about what sets your content apart from others in your industry.
What knowledge or insights can you provide that others can't?
Consider conducting in-depth research, sharing original data, or offering expert opinions on relevant topics. By providing valuable and authoritative content, you increase the chances of others linking to it as a reliable source.
Additionally, make sure your content is well-structured and easy to read. Use subheadings internal links, bullet points, and short paragraphs to make it scannable and accessible. Remember, the more valuable and user-friendly your content is, the more likely it is to attract links.
Guest blogging and content collaborations
Guest blogging and collaborating with others in your industry can be an effective way to acquire high-quality links. Look for reputable websites or blogs that accept guest posts and offer to contribute your expertise.
When guest blogging, make sure to write unique and valuable content that aligns with the host website's audience and guidelines. By providing insightful content, you not only gain exposure but also have a link profile and the opportunity to earn backlinks to your own website.
Similarly, consider collaborating with influencers or other businesses in your industry to create joint content. This could be in the form of interviews, round-up posts, or even co-creating comprehensive guides.
By leveraging the reach and expertise of others, you can attract more external links and expand your network.
Monitoring and analyzing link-building campaigns
When it comes to an eCommerce website or link building campaign, tracking your progress and analyzing the results is crucial. It allows you to understand the effectiveness of your efforts, identify what's working and what's not, and make informed decisions to improve your campaign's performance.
By monitoring your link building campaign, you can:
1. Measure the success of your efforts: Tracking your progress helps you determine if your link building strategies are generating the desired results. Are you getting more backlinks? Is your website's visibility increasing? By measuring these metrics, you can assess the effectiveness of your campaign.
2. Identify opportunities and trends: Monitoring your link building efforts allows you to spot emerging opportunities and trends in your industry. You can identify websites or influencers that are linking to your competitors and reach out to them for potential collaborations or partnerships.
3. Track ROI: Link building campaigns require investments of time, resources, and sometimes money. By tracking your progress, you can assess the return on investment (ROI) and determine if your efforts are generating a positive outcome.
Tools and techniques for monitoring backlinks
To effectively monitor your backlinks, you can use various tools and techniques. Here are a few popular ones:
1. Backlink analysis tools: Tools like Ahrefs, Moz, and SEMrush provide comprehensive backlink analysis. They allow you to track your backlinks, analyze their quality and relevance, monitor your competitors' backlinks, and identify new link-building opportunities.
2. Google Search Console: This free tool from Google provides valuable insights into your website's performance in search results. It shows you the number of backlinks, the websites linking to you, and the anchor texts used. It also alerts you to any issues with your backlinks, such as broken or spammy links.
3. Manual monitoring: While tools are helpful, manually monitoring your backlinks can also be beneficial. Regularly check your website's referral traffic to see which websites are sending visitors to your site. Keep an eye on your social media mentions and track any new links that are being shared.
Analyzing campaign performance and making adjustments
Analyzing your link building campaign's performance is essential to make informed decisions and improve your strategy. Here's how you can do it:
1. Set clear goals and metrics: Define specific goals for your campaign, such as increasing the number of backlinks or improving search engine rankings. Establish measurable metrics to track your progress towards these goals.
2. Regularly review your analytics: Use tools like Google Analytics to analyze your website's traffic, referral sources, and user behavior. Look for patterns and trends related to your link building efforts. Identify which strategies are driving the most traffic and conversions.
3. A/B testing: Experiment with different approaches and variations of your link building tactics. For example, try different outreach emails or guest posting strategies. Compare the results and identify what works best for your campaign.
4. Stay up-to-date with industry trends: The digital landscape is constantly evolving, so it's crucial to stay updated with the latest trends and best practices in link building. Follow industry blogs, attend webinars, and participate in relevant forums to learn from experts and adapt your strategy accordingly.
Remember, monitoring and analyzing your link building campaign is an ongoing process. By regularly tracking your progress, using the right tools, and making adjustments based on your analysis, you can optimize your efforts and achieve better results over time.
New link building trends in eCommerce
Influencer marketing and partnerships
Influencer marketing has become a powerful tool for building links in the ecommerce industry. Collaborating with influencers who have a strong online presence and a relevant audience can help you reach a wider audience and gain valuable backlinks.
By partnering with influencers, you can leverage their credibility and influence to promote your products or services, resulting in increased brand visibility and potential link opportunities.
Building links through user-generated content and reviews
User-generated content (UGC) and customer reviews have become increasingly important in ecommerce link building. Encouraging your customers to share their experiences and opinions through reviews, testimonials, or social media posts can generate valuable backlinks.
UGC provides authentic and trustworthy content that can attract other users and potential customers to your website, leading to more link opportunities.
Voice search optimization for link acquisition
With the rise of voice assistants like Siri, Alexa, and Google Assistant, optimizing your website for voice search has become crucial for link acquisition.
Voice search queries are often longer and more conversational, so focusing on long-tail keywords and providing concise, informative answers can help your website rank higher in voice search results. By optimizing your content for voice search, you increase the chances of getting featured snippets and earning valuable backlinks from authoritative sources.
These are just a few of the new link building trends in eCommerce. Incorporating these strategies into your link building campaigns can help you stay ahead of the competition and drive more traffic and conversions to your online store.
Remember to always monitor and analyze the results of your efforts to make informed decisions and continuously improve your link building strategy.
Common mistakes to avoid in eCommerce link building strategy
When it comes to link building in ecommerce websites, there are a few common mistakes that you should definitely avoid. Let's take a look at them:
Buying or spamming links
One of the biggest mistakes you can make is buying or spamming links. While it may seem like a quick and easy way to build links, it can actually do more harm than good.
Search engines like Google are getting smarter at detecting unnatural or broken link building patterns, and if they catch you buying or spamming links, your website could be penalized. Instead, focus on building organic, high-quality links through genuine outreach and relationship-building.
Ignoring relevancy and authority of linking sites
Another mistake to avoid is ignoring the relevancy and authority of the sites you're getting links from. It's important to remember that not all links are created equal.
Links from relevant and authoritative sites in your industry carry more weight and can boost your website's credibility and search engine rankings. So, make sure to prioritize and build quality links over quantity and seek out links from reputable sources.
Neglecting to diversify anchor text
Anchor text is the clickable text that appears in a hyperlink. Neglecting to diversify your anchor text is a common mistake in link building.
Using the same anchor text repeatedly can raise red flags to search engines, as it looks unnatural and manipulative. Instead, vary your anchor text by using a mix of branded terms, generic keywords, and long-tail phrases. This not only helps with SEO but also provides a better user experience.
By avoiding these mistakes and focusing on building organic, relevant, and diverse links, you can improve your own eCommerce store or website's visibility, and authority, and ultimately drive more traffic and sales. Remember, link building is a long-term strategy, so be patient and persistent in your efforts.
Maximize ROI with these eCommerce Link Building Strategies!
Overall, eCommerce link building requires a strategic and holistic approach. By implementing the right strategies, monitoring progress, and avoiding common pitfalls, businesses can optimize their eCommerce link building tactics and efforts and achieve long-term success in the competitive eCommerce landscape.